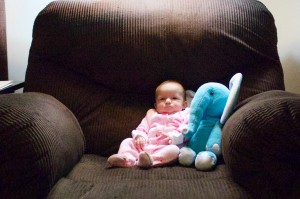 You are still in newborn diapers and clothes, but when we finish this box of NB diapers you will move into size 1.
You weigh about 9 lbs 4 ounces. (You left the hospital at 5lbs 10 ounes)
You are still only breastfed but the pediatrician recommends trying some formula soon so we know you can have it if you need to at any point.
I am still on maternity leave with you but daddy has returned to work.
You got your social security card and we were able to open up your savings account with lots of generous gifts from family and friends.
Your grandpa and family came to meet you near the middle of the month.
You started practicing sitting using your Bumbo chair, your neck control is getting pretty good.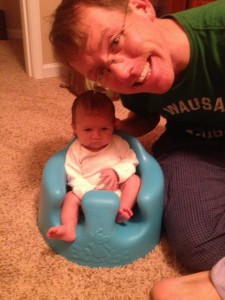 You have always been a big kicker so this seemed like a natural choice when picking out a baby gym for you, you hit the keys a lot but you don't know you are causing the music yet.
The mirror and animals  have begun to catch your attention.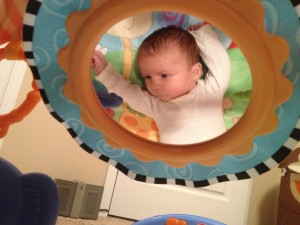 Daddy sings and plays guitar and piano for you, it's fun. 🙂
Daddy brought us breakfast in bed a few times in the last month, it's great to just hang out as a family.